We cannot accept that the established systems and bodies installed will do what they say they will. The United Nations puts this in writing yet what have they actually done?
Each individual State has the responsibility to protect its populations from genocide, war crimes, ethnic cleansing and crimes against humanity. This responsibility entails the prevention of such crimes, including their incitement, through appropriate and necessary means.
The UN actually sends their armies into many nations under the guise of "peace-keeping" and they do the opposite. They have engaged in child sex trafficking and brutality, plundering and destroying the countries they entered.
It's not what these monsters SAY, it's what they DO that is the problem. They cloak their agendas in flowery speech and virtuous intent and then do the opposite. They love using terms like equity and sustainability but it's mind control. We have to come out of the spells they cast.
It's been right in front of us yet we failed to recognize it. At what point do we accept they lied; that they intended to do harm?
One of the conditions for NESARA/GESARA is peace. Any nation at war cannot participate. We need never contribute another headstone to a field like the one below if we assume and carry out our responsibilities as stewards of our planet and our nations, but we do need to pause and reflect on how we got to where we are today and choose our vector at this fork in the road.
We have the power to transform our world completely. We have the power to eliminate what we don't want and create what we do, using our wildest imaginations and most grandiose ideas.
We need to rethink what is "possible" because we've been unwittingly living in tiny boxes with barely enough space to change our minds. We must engage in expansive thinking and throw off the blinders defining what we believe is possible.
One important aspect of our new world going forward will be medical system reform. The many ways to maintain homeostasis and eliminate disease will be revealed; many of them long known but intentionally made unavailable to us by the monsters running the planet. Only profitable treatments serve their needs—and treatments that kill us, as that is their ultimate agenda, after all.
They didn't teach med students to heal or cure. They didn't even teach them how the Human body really works. They taught quackery. Then they taught them to dispense drugs. Glorified drug pushers, with few of us ever realizing the number of deaths caused by the dispensation of legal drugs by medical practitioners.
The future is bright—but we need to be cautious about whom we entrust with our health. A knowledgeable expert in the Human body can easily heal us and restore vitality, but an indoctrinated professional could just as easily mean our demise. Choose wisely.
Speaking of drama, they're keeping the patriots in the Great White Gulag entertained while they're locked down and perhaps the DUMBs are cleared… just speculating.
Canada Launches Nationwide Manhunt For Anti-Lockdown Protester source
Nothing Can Stop What Is Coming
N=14 C=3 S=19 W=23 I=9 C=3 == 71 Mirror 17 === Q source
What if I told you that over 70% of this country voted for Donald Trump?
Over 110 million.
What if I told you that number has grown by MILLIONS since the election?
What if I told you that this country has voted conservatively for a very long time, but our votes have been ignored as they simply install the candidate of their choosing every four years? source
Dan is following 865
See Q Drop 865.
You have seen my previous Posts on on Dan and how many he is following

This isn't by mistake.
Watch the water. source
Scavino's 11:54 tweet on 5/31/21 shares the same timestamp with Q552
British funeral director John O'Looney has revealed to architect and film producer Robin Monotti how he experienced this "fake pandemic. "Mortality was at normal levels and was even slightly lower than 2019," he wrote in a message on Telegram.
O'Looney said many of his colleagues turned off their refrigerators around Christmas because "nobody died. "We started vaccinating here on January 6, and then almost immediately the number of deaths went through the roof. I have never experienced such a high mortality rate in 15 years as a funeral director."
He posted this message on YouTube under a video about corona. It was liked over 300 times after which his YouTube account was deleted without warning for allegedly violating policy.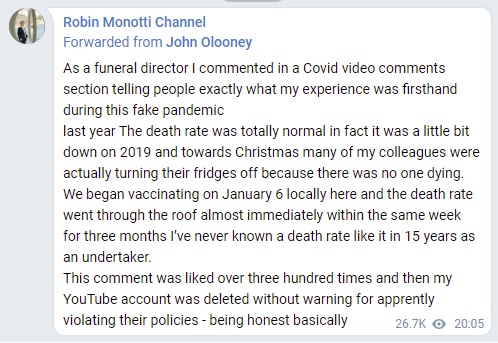 At the beginning of the "corona pandemic," O'Looney, who lives in Milton Keynes, made headlines when he warned that bodies might remain in hospitals because next of kin could not afford a funeral or cremation due to the lockdown.
He told the BBC that all the focus was on increasing cooling capacity in mortuaries while no consideration was given to people who could not arrange a funeral due to financial difficulties. source
Remember that programming through TELE-VISION works through the programming of the subconscious Mind.
The Symbols that are used are not the problem.
The intention behind the symbols is what effects the field of energy and vibration.
The evil Spells to disconnect, break and subject humanity which are being used can be turned around and turned against them.
How do you dismantle the Matrix?
By taking down the field of low vibration and heal the Minds of humanity with High Vibration and Light under the same Symbols.
To break the Spell is to end the Game.
Symbism will be their down fall.
Strategy
Authority
Intention
When we change the Game with Strategy
Taking back our own Authority and that of the Light
With the intention to uplift – heal and connect in Love which is GOD. source
Good News of the Week, May 30, 2021
More than a thousand Southern California patriots united at Riverside National Cemetery Saturday morning to place flags on the graves of more than 225,000 service members who gave their lives to protect our freedom. Their sacrifices will never be forgotten.
Millions more Americans are traveling this Memorial Day weekend than they did last year. The Automobile Club of Southern California projected a 60% increase in overall travel and a 578% increase in air travel. People are traveling now almost as much as they did pre-lockdowns.
California's Governor Newsom became the first governor in America to have a permanent injunction against him on behalf of houses of worship. A California District Court ruling prohibited Newsom and the State of CA from EVER issuing another Covid restriction on ANY church in the state, unless that same restriction applies to everyone else. Newsom was also ordered to reimburse The Liberty Counsel $1,350,000 in attorneys' fees and costs. More states are expected to follow.
Senate Republicans blocked Pelosi's legislation to create a 9/11-type January 6 Commission.
Facebook whistleblower Morgan Kahmann was fired for speaking truth, but more than 10,000 supporters have rallied around him and donated more than $430,000 to show their appreciation.
Facebook will no longer remove posts claiming Covid-19 was man-made as support mounts for probes into the virus' origins and the once ridiculed lab-leak theory.
The US Senate unanimously passed a bill requiring the Biden administration to declassify "any and all" information about the links between the Wuhan lab and Covid-19 within 90 days and to make "as much information as possible" publicly available. This will allow the world to decide for itself whether China is at fault for the virus.
Thousands of attorneys and doctors worldwide have joined forces to sue the WHO, the CDC and the Davos Group for crimes against humanity related to the "Covid-19 pandemic."
Georgia Governor Brian Kemp issued an executive order banning vaccine passports and stated that "vaccination is a personal decision between each citizen and a medical professional – not the state government." Thirteen governors have now issued EOs and/orsigned laws against vaccine passports.
While Idaho's governor was out of town, Lt. Gov. Janice McGeachin was briefly the acting governor. She used this time to issue an executive order banning mask mandates and to announce that she is running to replace current governor Brad Little. Little rescinded her EO.
The Texas Legislature passed a bill that would make abortion a felony in the event SCOTUS overturns Roe v. Wade.
Black Lives Matter co-founder Patrisse Cullors has resigned as executive director of BLM Global Network Foundation. The group's finances and Cullor's personal wealth have been in the spotlight recently after it was revealed that she had purchased four luxury homes for $3.2M.
Crime victims are leading the effort to recall Soros-funded Los Angeles County DA George Gascon. Gascon is changing policies, releasing dangerous criminals from prison and repeatedly refusing to prosecute dangerous, violent criminals despite pleas from victims and their families.
Unrepentant rapist Bill Cosby's petition for parole was denied because he refused to participate in a therapy program for sexually violent predators.
A new survey found that 20% of Americans, including 14% of Democrats, now agree with the statement that "There is a powerful storm coming soon that will sweep away the elites in power and restore the rightful leaders." source
📎Denver School Board member, Black Lives Matter leader, and anti-gun activist Tay Anderson is facing dozens of sexual assault, rape, harassment, and "inappropriate behavior" charges from various members of the community, including 62 high school students and illegal immigrants under the DACA program.
📎In Jupiter, Florida, on Memorial Day (Memorial Day), a grand parade of MAGA boats was held, Trump thanked his supporters in a special statement.
📎Activists in Iran are calling on powerful countries, including the United States, to boycott the upcoming elections based on alleged corrupt behavior in the election of the current Iranian leadership and the unfolding humanitarian crisis.
📎The children's animated series "Blue's Tips" has released a month-long program featuring transvestites and transgender children. "Love is love, you see, and we should all love proudly, and we will march in a big parade. Thank you, Blue, happy pride month!"
📎Judge Joe Brown joined former NBA player Kwame Brown in a live YouTube broadcast.
Brown blasted Biden for his attitude to racism and past statements denigrating black children. He also went over Kamala Harris, not shy about recalling all her past blunders and ambiguous statements.
📎It became known for certain that in 2016, a Chinese military officer responsible for the origin of COVID-19 recorded the spread of the virus in the United States.
📎Arizona State Senator Wendy Rogers sums up the results of the next round of audits in Arizona: "The results of this audit will be enough, because they will inform the legislation necessary to fill in the gaps to restore public confidence. The media has shattered and undermined this trust."
📎A video from 2015, in which the founder of Black Lives Matter, Patrice Khan-Kallors, calls for the end of the imperialist project called Israel, was found on the network. She hates not only America, but also the Jews.
📎Due to the consistently low incidence of coronavirus in Israel, all quarantine restrictions have been lifted.
📎Since June 1, the Turkish authorities have been easing measures against the coronavirus – the curfew is reduced, cafes and restaurants will begin to accept customers.
📎German Chancellor Angela Merkel and French President Emmanuel Macron called on Denmark and the United States to clarify the espionage scandal.
Earlier, a number of European media reported that the Danish secret service helped the US National Security Agency (NSA) spying on European leaders, including Chancellor Angela Merkel and President Frank-Walter Steinmeier.
📎Scottish scientists have successfully tested a drug that can kill cancer cells without damaging nearby healthy tissue. They compare the drug to a Trojan horse, and the effect of it to a metabolic warhead. At the same time, experts say that it is necessary to conduct additional tests of the drug. source
---
God has spoken
The old paradigm of corruption, lies, deception, demonic plans, pain, and suffering plays in the background as some continue to give it energy keeping the fire burning.
How unfortunate to see so many continue to be victimized by the idea of knowledge. The same sin… one bite of the apple we just can't resist. The road to destruction is the belief that knowing more will offer relief. It's quite the contrary.
The devil is selfish wanting all the attention at any cost to keep our eyes and emotions in chaos. This is how he's been able to lead without effort. How unfortunate for those who align with all things contrary to love. The devil cares not, loyal only to himself, feeding off our fears and leaving us to perish from anxiety.
Ironic is the story of the mustard seed. Did anyone ever consider the same story is true when it's the seed of Satan? One small little fear manifests itself into an entire existence. Now the world lives in fear and continues to honor the money. Earth's inhabitants feel the pain, consumed in disbelief as the reality of hell, and the beast is seen in action. More of the same is definitely not the answer.
Thank goodness the story gets better. For the most part, the majority of people still believe God wins. The proof presents itself when a match is struck in the darkness. And so, we have a decision to make. God gave us Free Will when we took a bite of that apple.
The devil's reign is coming to an end. Those who understand the power of love and how to demonstrate will be invaluable to the new world emerging. God has spoken. His people are rising to their birthright of the kingdom. source